New Trier East High School


Class of 1974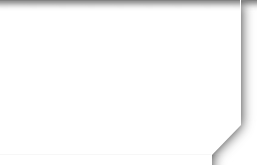 Not a member?
JOIN HERE
Find and click on your name.

WHERE ARE THEY NOW

WHERE WE LIVE
Who lives where - click links below to find out.

1 lives in Alaska
13 live in Arizona
23 live in California
23 live in Colorado
1 lives in Connecticut
1 lives in Delaware
2 live in District Of Columbia
8 live in Florida
5 live in Georgia
141 live in Illinois
3 live in Indiana
2 live in Iowa
1 lives in Kansas
1 lives in Kentucky
2 live in Maine
1 lives in Maryland
9 live in Massachusetts
8 live in Michigan
7 live in Minnesota
3 live in Missouri
4 live in Montana
3 live in Nevada
1 lives in New Hampshire
3 live in New Jersey
3 live in New Mexico
7 live in New York
1 lives in North Carolina
2 live in Ohio
5 live in Oregon
5 live in Pennsylvania
3 live in Tennessee
9 live in Texas
1 lives in Utah
6 live in Virginia
4 live in Washington
7 live in Wisconsin
1 lives in Ontario
3 live in Australia
1 lives in Austria
1 lives in Brazil
2 live in France
1 lives in Israel
2 live in Italy
3 live in United Kingdom
504 location unknown




Show Classmates on map
MISSING CLASSMATES
Know the email address of a missing Classmate? Click here to contact them!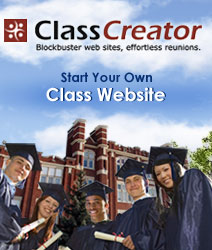 Classmate Justin Niebank to Join NT Alumni Hall of Honor
The New Trier Educational Foundation selects accomplished alumni each year, and this year, our classmate Justin Niebank has been selected. He joins Bruce Dern, Sharon Percy Rockefeller and others in this year's "class." Our own Geoff Tabin was also honored in 2011.
Here's what the foundation says about Justin:
Justin Niebank, Class of 1974. Niebank has been the producer or engineer on some of the biggest selling records of all time. He won two Grammys in 2009 for his work on Taylor Swift's album Fearless, and in 2007 for Bon Jovi's album These Days. Having had several albums in the Top 40 at the same time—Fearless by Taylor Swift, Defying Gravity by Keith Urban, Unstoppable by Rascal Flatts, American Saturday Night by Brad Paisley, and Kenny Chesney's Greatest Hits — Niebank is one of the most sought after engineers in the industry.
You are invited to attend the gala honoring Justin and the other alumni honorees.
https://connect.newtrierconnect.org/reunions--events/2022-gala?erid=455283&trid=5a2e266f-f835-482f-8e25-a64cbea6b2f7
Congratulations, Justin!
New Trier to Replace Gates Gymnasium
Goodbye Gates Gymnasium (News from New Trier)
"New Trier will break ground this December on a project to renovate and replace aging buildings on the East Side of the Winnetka Campus with new athletic and academic spaces that will expand student opportunities for generations to come without the need for a referendum.
Following more than a year-long study, the Board approved a plan to replace the 1928 Gates Gymnasium and 1925 Boiler Plant - both inflexible spaces with high maintenance costs that do not adequately meet student needs - with a new multipurpose facility. The project is scheduled to be completed by the opening of the 2023-2024 school year and will include a new multipurpose competition gym, a 6-lane indoor track, a dozen new classroom spaces, new auxiliary gyms, new strength and conditioning facilities, and a new climbing wall and high ropes course. Design elements from the Gates Gymnasium, such as the distinctive barrel-shaped roof, will be incorporated into the new facility as a nod to the gymnasium's illustrious history.
All alumni are invited to attend the following events at the Gates Gymnasium as we commemorate the historic space through a series called A December To Remember:
December 4, 2021 at 12 p.m. -- Open House and Commemoration Event
New Trier High School will host a Commemoration Ceremony in the Stage Gym on Saturday, Dec. 4 at 12 p.m. before the girls varsity basketball game. Alumni and guests are invited to stay for the girls and boys varsity basketball games beginning at 12:30 p.m. Attendees can also tour the entire Winnetka Campus, which was renovated on the west side in 2017, and view drawings of the new construction.
December 12, 2021 at 3 p.m. -- New Trier Winter Music Festival
The New Trier Music Department's annual concert dates back to 1918 and will be held in the Gates Gymnasium one last time on Sunday, Dec. 12. We are excited to feature New Trier's talented bands, orchestras, and choirs in this wonderful event. Due to COVID-19 restrictions, capacity may be limited to performers and their families, but we will livestream the event for the entire community. Stay tuned for more information.
December 16, 2021 at 5:45 p.m. -- Athletic Hall of Honor Induction and Alumni Night
The New Trier High School Athletic Department will induct its third class into the Athletic Department Hall of Honor on Thursday, Dec. 16, recognizing Ben Almaguer, Gary Groh, Ron Klein, and Deborah Ofcky for their significant contributions to New Trier Athletics. The inductees will be honored in the Gates Gymnasium in between the girls (5:45 p.m.) and boys varsity basketball games (7:30 p.m.) against Evanston High School, which will be the last official games played in the space.
New Trier Names Nine Alumni as 2022 Alumni Achievement Award Recipients
Nine distinguished New Trier High School alumni, including a Young Alumnus Award recipient, will receive the school's Alumni Achievement Award this March, joining 61 of their peers in the Alumni Hall of Honor. The honorees are:
Fran (Feuer) Deken, Class of 1961.
Bruce Dern, Class of 1954.
John Donahoe, Class of 1978.
Justin Niebank, Class of 1974.
Deborah Rhode, Class of 1970.
Sharon (Percy) Rockefeller, Class of 1962.
Nancy (Lynch) Scott, Class of 1960.
Richard E. Wiley, Class of 1951.
Young Alumnus Award:
Frank "Chad" Bernstein, Class of 2002.
The Alumni Hall of Honor Class of 2022 will receive their Alumni Achievement Awards at a gala hosted by the New Trier Educational Foundation beginning at 6 p.m. on Friday, March 11 at the Renaissance Chicago North Shore Hotel in Northbrook. All proceeds from the gala will benefit the Foundation, which provides philanthropic funding for exceptional educational opportunities for New Trier students.
For more information and to purchase tickets or sponorships please visit: https://newtrierconnect.org/2022-gala/
STAY SAFE AND CONNECT WITH CLASSMATES!
Please look at the "Missing Classmates" list. If you are in touch with a missing classmate, invite them to join the site by clicking on the "Missing Classmates" button on this page.
Have pictures? Add them to your profile or to the site.
NTE Class of 1974 Reunion was on Saturday October 19, 2019
A tour of the new New Trier (pictured below) was included.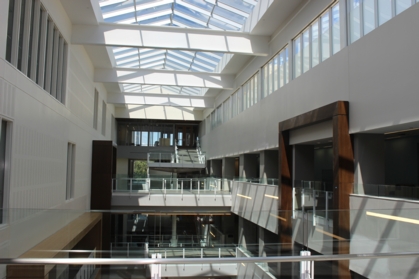 New Trier has undergone a massive renovation! The result is mind-blowing for those of us who remember the old days. This picture is an atrium space. But most of the old stuff remains intact. It's just been added to. In place of the TechArts and Music Building is a new library, a new cafeteria (!!), two new performance spaces, technical classrooms that can shape-shift as needs change, and "gathering places" for students. It's quite shocking.
Here's a photo taken during reconstruction. You are looking at what now faces the "Girls' Athletic Field" (north side of building). Go to http://newtrierfoundation.org/bricks/ for more info and to purchase your very own brick from the old parts that are being replaced.
Photos!
Do you have photos from our time at New Trier? Let's share them. If you have photos, PLEASE POST THEM HERE! Two options: 1) Post them to your profile page (as an example - Check out Jerry Braun's profile); or 2) create a gallery (accessible via the "Photo Gallerys" link in the top navigation bar). If you would like to create a gallery, Contact Randy Pickard at randy.pickard@gmail.com and he will set you up with the permissions needed to create to gallery.
NEW TO THE SITE?
Open "Missing Classmates." (at left) Click your name, create a brief profile.
Our 45th reunion was a ton of fun. Thanks to all that came to the events, particularly those that traveled to make it! For photos from the weekend, click on the Photo Galleries link on the navigation bar at the top of the webpage.
45th Reunion Group Photo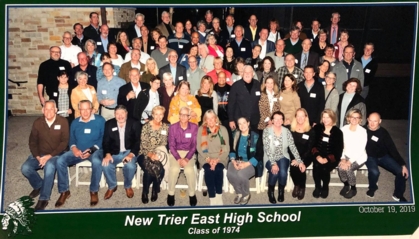 40th Reunion Group Photo
35th Reunion Group Photo
Here's a video made by earlier NTE grads to remind you of what we all share!
Did you have good friends in the Class of 1975? They are building a website in advance of their 40th reunion. If interested in becoming a guest member of their site, request access by filling out the form on http://www.nte75.com/class_contact.cfm