New Trier East High School


Class of 1974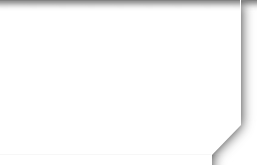 Not a member?
JOIN HERE
Find and click on your name.

WHERE ARE THEY NOW

WHERE WE LIVE
Who lives where - click links below to find out.

1 lives in Alaska
22 live in Arizona
1 lives in Arkansas
34 live in California
30 live in Colorado
2 live in Connecticut
1 lives in Delaware
4 live in District Of Columbia
16 live in Florida
5 live in Georgia
1 lives in Hawaii
220 live in Illinois
5 live in Indiana
3 live in Iowa
1 lives in Kansas
2 live in Kentucky
3 live in Maine
5 live in Maryland
11 live in Massachusetts
16 live in Michigan
12 live in Minnesota
1 lives in Mississippi
4 live in Missouri
4 live in Montana
3 live in Nevada
2 live in New Hampshire
5 live in New Jersey
5 live in New Mexico
10 live in New York
5 live in North Carolina
3 live in Ohio
10 live in Oregon
7 live in Pennsylvania
4 live in South Carolina
4 live in Tennessee
13 live in Texas
3 live in Utah
6 live in Virginia
11 live in Washington
17 live in Wisconsin
1 lives in Wyoming
3 live in Australia
1 lives in Austria
1 lives in Brazil
2 live in France
1 lives in Israel
2 live in Italy
3 live in United Kingdom
297 location unknown




Show Classmates on map
MISSING CLASSMATES
Know the email address of a missing Classmate? Click here to contact them!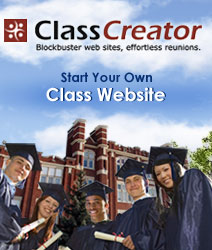 NEW TO THE SITE?
Open "Missing Classmates." (tab above) Click your name, create a brief profile.
Special Announcement!
NTE 1973 Football--named #1 in the state-- was honored Friday October 6, 2023 at the NT football game. Team members and their families, coaches, cheerleaders, Pom Pom squad and statisticians were invited to a pre-game reception in Wilmette with special guest Coach Cichowski. The half time honoring the NTE 73 football state championship was at the NT West football field in Northfield.
Click here to view photos from the event.
Click here to read Gary Sarnoff's "The Story of the 1973 New East Indians"
Click here for an archive of articles recapping the 1973 season. (It's a big file - may take time to download)
50th Reunion: September 27-29, 2024
Plans are underway for our 50th reunion on September 27-29, 2024. There will be parties on Friday and Saturday night, a school tour, a bike tour of the North Shore's Frank Lloyd Wright houses, and more. It's time to start telling your friends and updating your profile on the NTE website!
Please update your email address to the best address to reach you, telephone/cell numbers and your feeder school so that we have accurate information. Invitations and updates will come from this site.

Please contact your fellow classmates and ask them to do the same. The "Missing classmates" page tells you who has not yet registered on the site, and therefore are not receiving reunion information.

If you are not a member of the FaceBook (FB) group please go to the group site at "New Trier East '74 Alums" and request being added.
NEWS
Classmate Justin Niebank Joins NT Alumni Hall of Honor
The New Trier Educational Foundation selects accomplished alumni each year, and our classmate Justin Niebank, has now been honored. Our own Geoff Tabin was also honored in 2011.
Here's what the foundation says about Justin:
Justin Niebank, Class of 1974. Niebank has been the producer or engineer on some of the biggest selling records of all time. He won two Grammys in 2009 for his work on Taylor Swift's album Fearless, and in 2007 for Bon Jovi's album These Days. Having had several albums in the Top 40 at the same time—Fearless by Taylor Swift, Defying Gravity by Keith Urban, Unstoppable by Rascal Flatts, American Saturday Night by Brad Paisley, and Kenny Chesney's Greatest Hits — Niebank is one of the most sought after engineers in the industry.
Congratulations, Justin!
New Trier Replaces Gates Gymnasium
Goodbye Gates Gymnasium (News from New Trier)- from 2021
"New Trier will break ground this December on a project to renovate and replace aging buildings on the East Side of the Winnetka Campus with new athletic and academic spaces that will expand student opportunities for generations to come without the need for a referendum.
Following more than a year-long study, the Board approved a plan to replace the 1928 Gates Gymnasium and 1925 Boiler Plant - both inflexible spaces with high maintenance costs that do not adequately meet student needs - with a new multipurpose facility. The project is scheduled to be completed by the opening of the 2023-2024 school year and will include a new multipurpose competition gym, a 6-lane indoor track, a dozen new classroom spaces, new auxiliary gyms, new strength and conditioning facilities, and a new climbing wall and high ropes course. Design elements from the Gates Gymnasium, such as the distinctive barrel-shaped roof, will be incorporated into the new facility as a nod to the gymnasium's illustrious history.
Photos!
Do you have photos from our time at New Trier? Let's share them. If you have photos, PLEASE POST THEM HERE! Two options:
1) Post them to your profile page (as an example - Check out Jerry Braun's profile); or
2) create a gallery (accessible via the "Photo Gallerys" link in the top navigation bar).
If you would like to create a gallery, Contact Randy Pickard at randy.pickard@gmail.com and he will set you up with the permissions needed to create to gallery.
Previous Gatherings
Our 45th reunion in October 2019 was a ton of fun. Thanks to all that came to the events, particularly those that traveled to make it! For photos from the weekend, click on the Photo Galleries link on the navigation bar at the top of the webpage.
A tour of the new New Trier (pictured below) was included.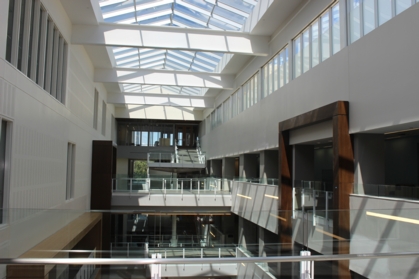 New Trier has undergone a massive renovation! The result is mind-blowing for those of us who remember the old days. This picture is an atrium space. But most of the old stuff remains intact. It's just been added to. In place of the TechArts and Music Building is a new library, a new cafeteria (!!), two new performance spaces, technical classrooms that can shape-shift as needs change, and "gathering places" for students. It's quite shocking.
45th Reunion Group Photo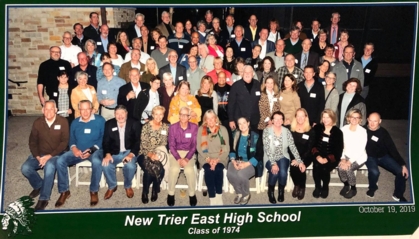 40th Reunion Group Photo
35th Reunion Group Photo
Did you have good friends in the Class of 1975? If interested in becoming a guest member of their site, request access by filling out the form on http://www.nte75.com/class_contact.cfm